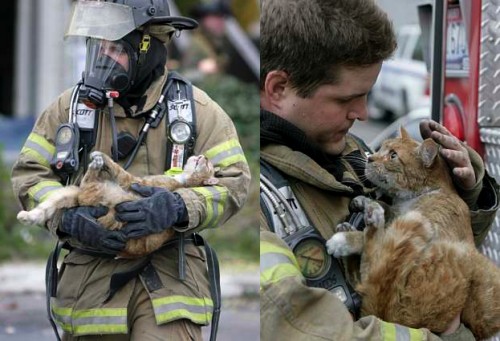 Classic Cat Rescue
By: Caitlin Burke
Category: cats
Boise firefighter Dana Brown rescues a cat from an apartment fire. He used a SurgiVet mask to revive it. —Photo: Chris Butler/Idaho Statesman (Nov 2007)
[ Photos archived at Orlando Sentinel – blog post includes photo of cat with oxygen mask. ]
6 comments on "Classic Cat Rescue"
God Bless all our Firemen !
They're true champions !!

Thank you…two of my favorites…cats and fiiremen.

I cry everytime I see this picture. God Bless Our Firemen and our furry humans too.

Oh my gosh!
There's actually some good in this world. Blessed be the firemen! I'm practically crying right now…

Love is present in the world! Love love love this man . The cat's face says it all. xoxo

this makes me cry, you are a hero.